Using a Police Report to Support Your Car Accident Claim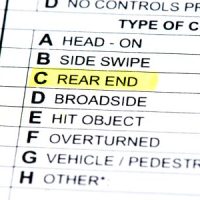 There are certain steps that all car accident victims should take (when possible) after being involved in a crash, such as calling the police, seeking medical attention, and taking photos at the scene of the accident. An often overlooked task, however, is obtaining a copy of the accident report drafted by the officers who responded to the scene of the crash. Failing to obtain this report after a collision can have significant repercussions for an accident victim's claim later on down the road. Read on to learn more about police reports and how they can be used to support a Georgia car accident claim.
Reporting a Car Accident 
In Georgia, drivers who are involved in car accidents are legally required to contact the police if the crash resulted in:
A death;
A serious injury; or
Property damage of at least $500.
There are a lot of benefits to fulfilling this obligation, as the police can take steps that can help in the resolution of an eventual car accident claim, such as:
Gathering evidence;
Taking photos and videos of the scene;
Noting the contact information of any eyewitnesses;
Taking note of any traffic violations that occurred prior to the accident; and
Recording statements made by the at-fault party.
Law enforcement officers can also assist with traffic control and can help provide emergency medical aid when necessary.
What Do Police Reports Say? 
After attending the scene of an accident, the responding officers will create a police report that contains information that could prove vital to the outcome of an eventual legal claim. These reports will, for instance, include details about all of the drivers that were involved in the accident, as well as any statements they made regarding fault. The report should also contain a rendering of the final resting position of the vehicles, as well as an initial description of the damage to those vehicles. Any obvious injuries will be noted, as will the names of anyone who actually saw the accident occur. The report can also contain details about a driver's conduct, including whether he or she was combative or even under the influence of drugs or alcohol. All of this information can play a critical role in helping an accident victim prove fault and damages at a later date.
Contact an Experienced Atlanta Car Accident Lawyer
 Fortunately, obtaining a police report isn't expensive and usually only takes a few minutes. Furthermore, the information it contains is usually well worth the effort it takes to obtain a copy. Compiling other types of evidence, however, may not be so simple. For help investigating the cause of your own accident and building a strong case against the driver who caused it, call 404-593-0020 and set up a meeting with one of the experienced Roswell car accident lawyers at Shiver Hamilton Campbell today. We know how stressful the aftermath of a car accident can be and will do everything we can to help you navigate the legal complexities of filing a claim against the at-fault party responsible for your injuries.
Sources: 
forbes.com/advisor/car-insurance/what-to-do-after-accident/
law.justia.com/codes/georgia/2020/title-40/chapter-6/article-12/section-40-6-273/