2016: A Year in Review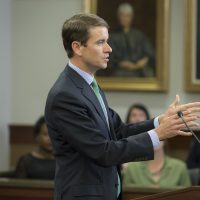 Shiver Hamilton Campbell's Year in Review
As 2016 comes to a close, Shiver Hamilton Campbell reflects on another year of representing injured victims and families who have lost loved ones in tragic incidents. Our clients turn to us in times of incredible hardship, and we are honored that these clients trust us with what is likely the most important legal issue they have or will ever face.
This year, our team of passionate legal professionals worked hard to protect our clients' rights and to hold defendants accountable. Our results this year speak to our tireless commitment to obtaining fair compensation for our clients.
Here are a few highlights of the results we have obtained on behalf of our clients this year:
$20,000,000 jury verdict on behalf of a man who was murdered in an apartment complex where the defendants had failed to provide increased security measures despite a long history of violent crime, including the shooting of a 13 year old boy. The insurance company offers $1,000,000 before trial, claiming that was "fair value" for the life of a father and husband.
$4,400,000 settlement on behalf of a man who was injured when a car pulled out in front of him. In late 2015, Shiver Hamilton Campbell obtained a $3,700,000 verdict in Gwinnett County. The highest offer before trial was $25,000. The case was appealed but the insurance company paid the verdict and an additional $700,000 for attorney's fees
After three years of litigation, which included obtaining a favorable decision in the Court of Appeals, we reached a very confidential settlement just before trial in the case of a hospital patient who was sexually assaulted by an employee.
$3,750,000 settlement on behalf of a young man who was shot at an apartment complex, causing him to lose his leg below the knee. Before Shiver Hamilton Campbell was involved, the highest offer was $50,000.
$2,200,000 jury verdict on behalf of a man who suffered spinal and shoulder injuries following a two-car collision.
Shiver Hamilton Campbell heads into 2017 with a renewed commitment to fighting for our clients' rights. If you or a loved one have been injured as a result of unsafe premises, negligent or malicious employees, an automobile collision, or any other act of negligence, we hope that you will trust us to seek justice on your behalf.