Were You Involved in a T-Bone Accident in Georgia?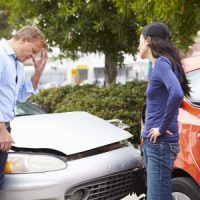 While the circumstances of all car accidents are different, it is possible to categorize crashes by type. A head-on collision, for instance, occurs, as its name suggests, when the fronts of two vehicles strike each other, while multi-car pile-ups involve multiple vehicles. Rear-end collisions, on the other hand, happen when the front of one vehicle strikes the rear of another. One of the most common and potentially dangerous types of car accidents in which a person can be involved, however, is a t-bone accident.
What are T-Bone Accidents? 
Also known as side-impact collisions, t-bone crashes occur when the front of one vehicle strikes another vehicle on its side, creating a T-shape. According to the National Highway Traffic Safety Administration (NHTSA), these kinds of crashes occur much more often than most people realize, accounting for almost 24 percent of all car crashes in the U.S. These kinds of accidents are also very dangerous. For instance, in 2020, t-bone accidents resulted in 467,073 injuries. Tragically, in 6,432 of these cases, the injuries sustained in the collisions proved fatal. While they can occur in many locations, t-bone crashes are particularly common at intersections, where many vehicles are forced to approach each other at various angles. While stop signs and traffic lights are effective in preventing these kinds of crashes, they are unfortunately, not a guarantee of safety.
Responsibility for T-Bone Accidents 
Almost all t-bone accidents occur because of at least one driver's carelessness. This could include everything from failing to yield at a cross street or intersection to attempting to speed through a traffic light. Whether the cause of such an error is distraction, fatigue, or impatience, at-fault drivers who engage in these kinds of behaviors can and should be held liable for the accidents they cause. Injured parties who can prove through eyewitness testimony, accident scene photos, or traffic or dash cam footage that another driver was the cause of a t-bone accident, could be entitled to reimbursement for their collision-related losses, including their medical bills, lost wages, vehicle repair or replacement costs, and pain and suffering.
Recovering compensation for these losses is important, as the injuries sustained in t-bone accidents are often severe. Broken arms and shoulders are common, as are traumatic brain injuries (TBIs), lacerations from broken windows, rib injuries, whiplash, pelvic and hip injuries, and even hearing and vision loss. The damage to the vehicles involved is also almost always significant and it is not uncommon for one or both cars to be deemed totaled.
Were You Injured in a T-Bone Accident? 
If you were involved in a T-bone accident for which you were not at fault, an investigation and the help of an experienced legal team could help you establish fault and damages, both of which are crucial to the successful outcome of your case. Call Shiver Hamilton Campbell at 404-593-0020 to learn more about how one of our dedicated Roswell car accident lawyers can help with your accident claim.
Sources: 
sundial.csun.edu/170637/sundialbrandstudio/independent-legal-guide/what-are-the-most-common-types-of-car-accidents-and-how-do-they-occur/
forbes.com/advisor/legal/auto-accident/t-bone-accident/