Common Rear-End Car Accident Injuries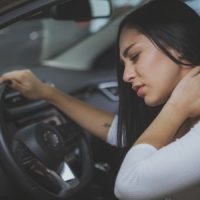 Rear-end collisions are one of the most common types of car accidents in Georgia. In fact, the National Highway Traffic Safety Administration (NHTSA) estimates that rear-end accidents account for almost 30 percent of car accidents in the U.S. Unfortunately, these kinds of crashes are also dangerous, even when they occur at relatively low speeds, as they typically cause an occupant's head to snap forwards and backwards, causing whiplash and other neck problems. These are not the only kinds of injuries that the victim of a rear-end accident can sustain. Read on to learn more about the most common rear-end car accident injuries and how victims can go about recovering compensation for their losses.
Whiplash 
As we mentioned previously, whiplash is one of the most common injuries sustained by rear-end accident victims. This is relatively unsurprising when you think about the kinds of violent and sudden movements that the neck and head are forced to make during this type of crash and how that could damage the soft tissues. Whiplash can leave accident victims suffering from pain, soreness, and reduced mobility for weeks or even months after a crash. Whiplash symptoms are also often delayed, not appearing for a few hours or days, which is why it's so important for victims to seek medical attention as soon as possible after a crash.
Concussions 
Many people are surprised to learn that victims of rear-end accidents also often sustain concussions. These injuries typically occur as a result of striking their head on the steering wheel, dashboard, or window. Concussions occur when the brain strikes the inside of the skull upon sustaining an impact, causing bruising and damage to the brain tissue and cells. Common symptoms include nausea, dizziness, headaches, blurred vision, an inability to concentrate, and sensitivity to sounds and light. Immediate medical attention is critical for those who are suffering from concussions, as a lack of treatment can result in more severe complications down the road.
Back Injuries 
Back injuries are another type of injury that is commonly reported by rear-end accident victims. These injuries can occur in a couple of different ways, but usually involve the compression of the spine and the discs between the vertebrae upon impact. The resulting compression can cause a disc to become herniated or torn, placing too much pressure on the nerves in the spinal cord and causing significant pain. In rear-end car accident scenarios these injuries usually affect the lower portion of the spine, known as the lumbar region. Common symptoms include pain, tingling, numbness, and reduced mobility.
Contact Shiver Hamilton Campbell for Legal Help Today 
If you or a loved one were injured in a rear-end car accident in Georgia, there are steps that you can take to aid in your recovery. Call the dedicated Atlanta rear end collision lawyers at Shiver Hamilton Campbell today to learn more. You can reach us by calling 404-593-0020 or by sending us an online message.
Sources: 
nhtsa.gov/sites/nhtsa.gov/files/analyses20of20rear-end20crashes20and20near-crashes20dot20hs2081020846.pdf
forbes.com/advisor/legal/auto-accident/rear-end-collision/