Were You Injured by a Defective Consumer Product?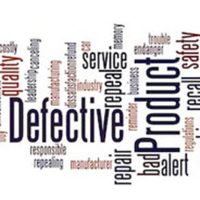 Whether it's a kitchen appliance, hair dryer, or prescription medication, we put a lot of trust in manufacturers to be diligent in their designing, testing, and manufacturing of consumer products. In fact, companies that manufacture these kinds of products are legally required to follow strict rules regarding the testing and producing of their merchandise under federal law. Unfortunately, not all manufacturers adhere to these regulations, which puts consumers at risk of being injured by defective and dangerous products. It is possible, however, for injured consumers to recover compensation for their injuries from the negligent companies that manufactured the defective product.
Georgia Product Liability Law 
In Georgia, consumers who are injured by defective products can file legal claims against the negligent manufacturers, distributors, or sellers of the product who were responsible for the injury. This is known as a product liability claim and it provides injured claimants with a way to pay their medical bills and offset their lost wages while they recover from their unexpected accident. There are three main types of defects for which an injured consumer can recover under Georgia law.
Defective Design 
The first type of defect from which a consumer product can suffer is known as a design defect. Under these types of claims, the injured party must show that the product basically turned out as expected, but suffered from a design that was ultimately defective. In these cases, the injured party may need to provide proof of a safer design, which means that the testimony of expert witnesses may be necessary to support the claim. Furthermore, because defective design claims are based on allegations of a deficient overall design, it is common for multiple consumers to be injured by a product (as they were all defective), meaning that a case could qualify for a class action filing.
Manufacturing Defects 
The second type of defect for which an injured party can seek damage is a manufacturing defect. These kinds of problems occur during the manufacturing process, so unlike with design defects, the problem is usually only with a specific batch of the product. Basically, while the design for the product may have been safe, some mistake during production caused a problem that resulted in a defect. If a claimant can prove that this defect went on to cause an injury, then he or she could be entitled to damages.
Defective Warning
Finally, claimants can recover for injuries caused by defective products even when the product's design and manufacturing process were safe if the manufacturer failed to warn users of the dangers of the product's normal use. Warnings need to be in writing, located on the packaging or the product itself, and in clear understandable language.
Contact a Marietta Product Liability Attorney Today  
To speak with an experienced Atlanta product liability lawyer about your recovery options following an injury caused by a defective consumer product, call Shiver Hamilton Campbell at your earliest convenience. You can set up a free consultation by calling our office at 404-593-0020 or by sending us an online message. A member of our legal team is standing by and ready to get started on your case today.
Sources: 
law.cornell.edu/wex/product_liability
law.justia.com/codes/georgia/2010/title-51/chapter-1/51-1-11-1