Types Of Pedestrian Accidents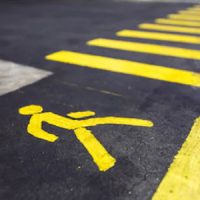 Pedestrian accidents are on the rise across the country. They are also becoming more dangerous, as revealed by a report released by the Centers for Disease Control and Prevention (CDC), which stated that one pedestrian is killed every 75 minutes in the U.S. There were also a further 104,000 emergency department visits by pedestrians, who were treated for non-fatal crash injuries in 2020 alone. These injuries occurred in a wide range of scenarios, including the ones we have listed below.
Intersection Accidents
As many as one-quarter of all pedestrian accidents occur at intersections. These collisions can often be attributed to driver distraction, attempts to make it through yellow lights, and making illegal left turns. Injuries can be severe in these cases, especially if the vehicle that struck the pedestrian was speeding at the time of the accident.
Crosswalk Accidents
Under Georgia law, drivers are required to stop and allow pedestrians to cross the road at marked crosswalks when:
The pedestrian is on the half of the road upon which the vehicle is also traveling; and
The pedestrian is approaching and is within one lane of the vehicle's half of the roadway.
Basically, it's unlawful in Georgia for drivers to squeeze by, try to drive around, or to cut off pedestrians at a crosswalk. Furthermore, anytime a vehicle is stopped at either a marked crosswalk, or at an intersection to let a pedestrian pass, the drivers of any vehicles approaching from the rear are also forbidden from trying to pass the stopped vehicle. Unfortunately, many drivers don't obey these rules, either because they are in a hurry, aren't familiar with traffic laws, or are simply not paying attention.
Reversing Vehicles
A lot of pedestrian accidents occur when a driver is attempting to back his or her vehicle out of a parking spot, or out of a driveway and onto the street and fail to notice that the space behind the car is not clear. While the injuries sustained in these kinds of crashes are often less severe, because they typically occur at lower speeds, they can still be serious, including broken bones, head trauma, and lacerations.
School Zone Accidents
The speed limits in school zones are reduced in Georgia to account for the many pedestrians, both adults and children who are often present. Unfortunately, drivers don't always abide by these lower speed limits, which can have devastating consequences for a child crossing the street. Other child pedestrian accidents often involve school buses. Although it is illegal to pass a school bus that has stopped to drop off or pick up children, some drivers don't follow this rule. It's important to note that on undivided highways, both sides of traffic are also required to stop for school buses that are actively loading or unloading children.
Call Shiver Hamilton Campbell Today
If you or a loved one were hurt in a pedestrian accident in Georgia, you should speak with an experienced Atlanta pedestrian accident lawyer about your recovery options. Contact Shiver Hamilton Campbell online or call us at 404-593-0020 to set up a free case review.
Sources:
cdc.gov/transportationsafety/pedestrian_safety/index.html
law.justia.com/codes/georgia/2010/title-40/chapter-6/article-5/40-6-91