Trucking Accidents: When Should You Speak with the Insurance Company?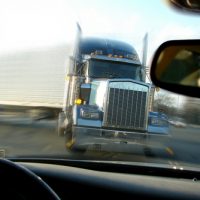 I've been in an Accident with a Tractor Trailer and the Insurance Company Keeps Calling…Should I Talk to Them?
Oftentimes, the answer is no. At the end of the day, the insurance company deals with trucking accident claims day in and day out. And it is in the business of paying out as little as possible on each claim. The injured individual, on the other hand, is in a totally foreign and unfamiliar world. And on top of that, he or she is living through a serious injury or loss of a loved one.
The insurance company may want to take a recorded statement. If you think you may need to consult a lawyer, you should do so before agreeing to anything being recorded. Also, be very wary of discussions of what "you would like" or "how much you want" or anything that sounds like a conversation about money. You stand very little to gain, and much to lose, from a discussion with the insurance company as to the value of your trucking accident case. Plus, you don't even know how long or hard recovery will be, or if you will have long-lasting or permanent effects from the injury.
The more serious the injury, the more true it is that you should be very reluctant to try and discuss case value with the insurance company. Whatever you say will be recorded in the file, and may later influence what amount of "reserves" the insurance company has set aside to deal with your trucking accident claim. Some clients come to us having given up too much of their thinking already to an insurance representative. After all, the representative is friendly and re-assuring that the insurance company will do the right thing and do it quickly. Only when it's too late – after revealing his or her thinking to the insurance company — does the individual find out just how cheaply the insurance company "values" the individual's injury and pain and limitations. That is why the logic of "I'll first try and settle it on my own before I talk to a lawyer" can be a trap, especially in a high-stakes serious trucking accident injury case.
Any legitimate estimate of your specific case's value has to do with numerous facts that have to be evaluated for your specific case. These include how bad was the at fault party's conduct; where will the case be tried; how long-lasting will the injuries be; and what amount of medical bills and lost wages (past and future) do you have. It is not an exact science, but lawyers experienced in trying trucking accident cases can at least make reasonable estimates of what a jury could do. At our Firm, it never costs a potential client anything, and there is no up-front commitment, for a person who wants to discuss their particular case and hear what we believe it could be worth.
(NOTE: This is not intended as a negative toward insurance adjusters. On the contrary, we deal with many insurance adjusters who we respect and who demonstrate integrity.)