Shiver Hamilton Campbell Obtains $425,000 Verdict Against Trucking Company and Insurance Company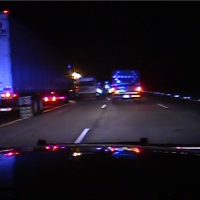 Scott Campbell and Alan Hamilton of Shiver Hamilton Campbell obtained a $425,000 verdict against a trucking company and an insurance company, for a client that was rear-ended on I-75 by a tractor-trailer resulting in shoulder and low back injuries. From the outset the defendants blamed our client for the wreck and denied that he was significantly injured. At trial the defense called four different expert witnesses.
Through our investigation, we were able to prove the trucking company had submitted incorrect driver logs and the truck driver had in fact been driving longer than federal "hours of service" regulations allow. After a two day trial the jury found in favor of our client. The verdict was more than five times the best pre-trial settlement offer. The trial was very hard fought, but we are pleased to bring closure and justice to our client. The trial was taped and broadcast by Courtroom Video Network.
Here, at Shiver Hamilton Campbell we have substantial experience handling tractor trailer accident cases and may be able to work for you. Reach out to us if you have been involved in a truck accident.