The Different Types Of Distracted Driving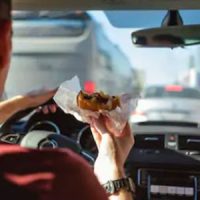 The first thing that many of us think of when we contemplate distracted driving is texting and driving. While it is true that this is an extremely dangerous example of distracted driving, it is by no means the only one. There are actually a lot of different forms that distracted driving can take and all of them are dangerous to other road users. For instance, the Florida Department of Highway Safety and Motor Vehicles, estimates that there were as many as 56,425 accidents caused by distracted driving in Florida in 2021 alone.
Visual Distractions 
The National Highway Traffic Safety Administration (NHTSA) divides distracted driving (anything that diverts attention away from driving) into three categories, each of which affect our senses differently. The first category covers visual distractions, which includes any activity that takes a motorist's eyes off the road. Common examples include looking at a phone to read a text message or email, looking at an accident on the side of the road, or looking for something in the back or passenger seat. Even glancing out of the window, when combined with something like daydreaming, can qualify as a dangerous distraction.
Manual Distractions 
The second type of distracted driving covers manual distractions, or things that take a motorist's hands off the wheel. Common examples of manual distractions include:
Eating and drinking;
Adjusting climate controls, the radio, the GPS, or another in-vehicle technology;
Attempting to restrain a pet;
Reaching for something in the back seat;
Grooming; and
Smoking.
Many of these manual distractions also fall under other categories. Reaching for something in the backseat, for instance, while it involves taking one's hands off the wheel may end up also causing a person to stop looking at the road.
Cognitive Distractions 
The third, and final, category of distracted driving activity is cognitive distractions. This grouping covers any activity that involves a driver thinking about something other than the act of driving. Talking on a hands-free device, for instance, can be a cognitive distraction, as can conversing with passengers, or even just daydreaming. Even when drivers have their hands on the wheel and their eyes on the road, they could still cause an accident if they don't focus fully on the act of driving. Drivers who are distracted in this way can expect to experience slower reaction times and impaired judgment.
All three types of distractions are dangerous when driving and could easily lead to an accident. The most perilous activities, however, often fall under multiple categories. This is partly why texting and driving is so dangerous, as it falls under all three categories of distraction.
Experienced Atlanta Car Accident Lawyers 
If you were involved in a car accident that you believe was caused by distracted driving, feel free to reach out to the dedicated Atlanta car accident lawyers at Shiver Hamilton Campbell for advice. You may be entitled to compensation for your accident-related losses. Call us at 404-593-0020 or send us an online message to set up a free consultation with a member of our legal team.
Sources: 
naplesnews.com/story/news/local/2022/05/17/distracted-driving-incidents-rise-across-swfl-following-florida-trend/7365410001/
cdc.gov/transportationsafety/distracted_driving/index.html