Teen Drivers & Car Accidents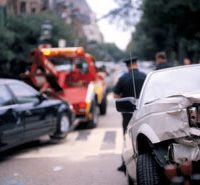 This week is the U.S. Department of Transportation's National Highway Traffic Safety Administration's National Teen Driver Safety Week. Learning to drive a car is difficult task and a focus on the youngest demographic of drivers is important. With teen drivers, there are factors to account for that are not as prominent in other groups and can contribute to car accidents. In this blog post, read along and consider how you will share this information with teens about safe driving, but most importantly, consider the importance of modeling safe driving habits.
Teen Drivers & Car Accidents: National Teen Driver Safety Week
On average, six teenagers died in a car wreck per day in 2013. [1] That makes car accidents the leading cause of death for teenagers in the U.S. Teens between the ages of 16 and 19 are three times more likely than those 20 and over to be involved in car accidents. In fact, 20% of 16-year-old drivers have an accident within their first year on the road. [2] Teenage boys and teen drivers with other teen passengers are even more at risk. Obviously, inexperience is a major risk factor for car accidents among young drivers. Parents can help their teens become safer drivers by spending more time teaching them to drive and supervising them on the road, since over half of teenagers rely on their parents to learn how to drive. In fact, studies show that Graduated Driver Licensing programs, which impose various supervision requirements and restrictions while a teen is learning to drive, can reduce involvement in fatal crashes and injury crashes, up to 38% and 40%, respectively. [3]
Several other risk factors also contribute to the likelihood that a teenager will be involved in a crash. In addition to driver inexperience and driving with other teen passengers, other factors increasing the risk of a crash include nighttime driving, distracted driving, not wearing a seat belt, and driving while drowsy or impaired. Talk to teens about avoiding these risky behaviors, and to speak up if they are passengers in a car with an unsafe driver.
[1] http://www.cdc.gov/motorvehiclesafety/teen_drivers/teendrivers_factsheet.html
[2] https://www.dosomething.org/facts/11-facts-about-teen-driving
[3] https://www.aaafoundation.org/sites/default/files/NationwideReviewOfGDL.pdf