Trucking Accidents: Hit by a Delivery Truck? Know Your Rights.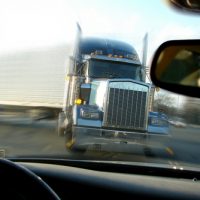 When you've been involved in an accident with a tractor-trailer, your first thought probably isn't determining how many companies are involved in operating a single truck. But the complicated structure of the trucking industry can quickly become an additional headache for drivers injured in trucking accidents. Typically, employers are responsible for the negligence of their employees when those employees are acting within the course and scope of employment. This principle is referred to as "respondeat superior." However, determining whether a person is an employee or an "independent contractor" involves determining the degree of control the employer has over the person's work. Employers are generally not responsible for the negligence of independent contractors.
But the trucking industry is sometimes more complicated than the typical employer-employee relationship. Frequently, several different entities are involved in hauling one load, each with a different insurance policy. Trucking companies often enter into agreements with truck owners in which the owner provides the trucking company with use of the truck. Thus, one entity might own the truck with another company owning the trailer, and still another company responsible for the freight inside the truck. To complicate matters further, often none of these companies are "employers" of the truck driver, who might operate his own business as an independent contractor.
To prevent companies from hiring uninsured, risky trucks and their drivers as "independent contractors" and then avoid liability when those uninsured trucks and drivers caused injury to the general public, the federal government requires insurance companies who insure vehicles owned or leased by interstate trucking companies to include an MCS-90 endorsement in their insurance policies.  The MCS-90 requires an insurance company to pay, up to the policy limits, "any final judgment recovered against the insured for public liability resulting from negligence in the operation, maintenance or use" of commercial motor vehicles subject to the Motor Carrier Act, "regardless of whether or not each motor vehicle is specifically described in the policy." 49 CFR § 387.15.  Companies can't contract around this requirement, and nothing in the policy can relieve the insurance company from payment of such a final judgment.
If this seems complicated, that's why you need an expert. Navigating the complicated waters of trucking liability requires a legal team with extensive experience in handling trucking accidents claims.