Study Shows That Some Motorists At Higher Risk Of Causing Distracted Driving Accidents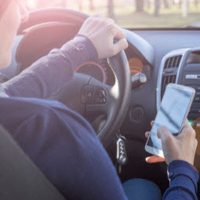 Any motorist can become distracted while driving. In fact, with in-vehicle technologies, other passengers, and cell phone use, it often takes real focus to avoid becoming distracted while driving. Still, certain drivers, including (as revealed by a recent study conducted by the Insurance Institute for Highway Safety (IIHS) gig economy workers and parents, may be more at risk of becoming distracted and causing an accident.
Smartphone Applications 
The use of smartphone apps has become increasingly common in our day-to-day lives. We use these applications for everything from checking the weather and booking airline flights to depositing funds in our bank accounts and finding new restaurants. Unfortunately, people don't always limit their use of these apps to their non-driving time, but end up using them behind the wheel. This can have potentially devastating consequences for the driver and anyone else on the road. A new study, however, reveals that certain individuals may be more likely to use smartphone apps while driving, which in turn, puts them at a higher risk of being involved in an accident as a result.
Gig Economy Workers and Parents 
According to a recent study, gig economy workers are up to four times more likely to use apps while driving than other motorists. This makes sense when you consider the types of work that these drivers engage in, which includes food delivery and providing rideshare services. Using applications is critical to these drivers' ability to do their jobs, connecting them with potential riders or requests for delivery. Unfortunately, this puts these individuals at higher risk of being involved in an accident. Looking down briefly at a map or GPS direction, for instance, is all it takes to cause a crash.
Similarly, parents of young children were also shown to use their apps more while driving to check the forecast, look for traffic updates, make video calls, and submit last-minute homework assignments. The study, which was conducted by the Insurance Institute for Highway Safety (IIHS) revealed that parents with underage children may be as much as 50 percent more likely to use an app while driving.
Hands-Free Devices Don't Eliminate the Risk
 While the majority of the gig economy workers and parents who were surveyed for the study reported using hands-free devices, researchers remain skeptical about the ability of these devices to eliminate distraction. Even someone who uses a hands-free device, for instance, must still look at the screen when using a navigation app.
Reach Out to Our Experienced Marietta Car Accident Lawyers
At Shiver Hamilton Campbell, our dedicated Marietta car accident attorneys have the experience and resources to help our clients pursue their legal claims and seek compensation for their accident-related losses. If you were injured in an accident with a distracted driver, call us at 404-593-0020 and a member of our legal team will help you set up a free, no-obligation consultation. You can also reach us by completing one of our brief online contact forms.
Sources:
 iihs.org/news/detail/smartphone-apps-drive-gig-workers-parents-to-distraction
forbes.com/sites/tanyamohn/2022/11/08/gig-workers-and-parents-are-biggest-distracted-drivers/?sh=1c9744cc5552