Pedestrian Safety in Georgia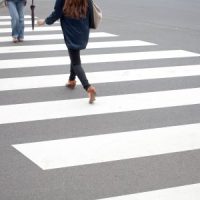 It won't come as a surprise to anyone who lives or works in Atlanta that the streets are busier and more congested than ever. This is due, not only to the presence of more motorists, but also to the increasing numbers of cyclists and pedestrians on the city's roads. The latter are, unfortunately, the most at risk of suffering a severe injury in the event of a collision. In fact, Atlanta was recently ranked as one of the top 30 most dangerous cities in the country for pedestrians. Reflecting this trend is the alarming increase in pedestrian accidents in the state over the last five years, where the number of fatal pedestrian accidents have gone up by as much as 60 percent. Knowing the rules of the road in Georgia can go a long way towards preventing these dangerous kinds of accidents.
Pedestrian Laws in Georgia 
In Georgia, pedestrians always have the right-of-way at marked crosswalks and in unmarked crosswalks that are located at intersections. At any other crossing on the roadway, however, pedestrians are required to yield the right-of-way to drivers, unless they have already entered the roadway. Drivers are prohibited from trying to squeeze by, drive around, or cut off a pedestrian who is already in a crosswalk, even when there is room to do so. Unfortunately, not all drivers adhere to these rules, which puts any pedestrians who are unlucky enough to be sharing the road with them at the same time, at significant risk of injury.
Precautionary Steps for Pedestrians and Drivers
The injuries sustained by pedestrians in collisions with vehicles are almost always severe and often reach the level of catastrophic. This is why it's so important for all road users to take certain precautionary steps to avoid being the cause of such a crash, such as:
Only crossing the street at designated crosswalks and intersections when possible;
Using sidewalks whenever possible;
Facing traffic when walking on the shoulder of the road;
Wearing reflective clothing when walking at night;
Making eye contact with drivers to ensure that they can be seen; and
Refraining from using phones or earbuds when walking to avoid distraction.
There are also things that drivers can do to help avoid being the cause of a pedestrian accident, such as:
Remaining vigilant for pedestrians;
Yielding to pedestrians at crosswalks;
Refraining from passing another vehicle that is stopped at a crosswalk;
Remaining alert in school zones and neighborhoods, where pedestrians are more likely to be; and
Following the speed limit.
Unfortunately, even those who use the greatest care in trying to avoid being involved in a pedestrian accident could still end up injured. In these cases, accident victims should consider reaching out to an attorney for help investigating the cause of their crash and seeking compensation for related losses.
Speak with an Experienced Atlanta Pedestrian Accident Attorney 
Please call the dedicated Marietta pedestrian accident lawyers at Shiver Hamilton Campbell for an evaluation of your own legal options following a pedestrian accident. We can be reached at 404-593-0020 or via online message.
Sources: 
fox5atlanta.com/news/georgia-has-one-of-the-highest-pedestrian-fatality-rates-in-the-country-data-shows
law.justia.com/codes/georgia/2010/title-40/chapter-6/article-5/40-6-96