Pedestrian Accident Injuries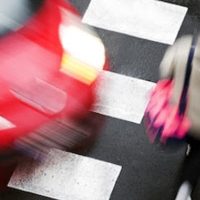 As gas prices continue to rise, more and more Georgia residents have begun cycling and walking to get where they need to go. While these are healthy, cost effective, and eco-friendly activities, they can also be dangerous. In fact, thousands of pedestrians sustain catastrophic injuries every year in the U.S. Many of these injuries end up being life-altering for victims and their families. Fortunately, pedestrians who are injured because of a driver's negligence could be entitled to compensation for their medical bills, lost wages, and pain and suffering.
Traumatic Brain Injuries 
Pedestrian accidents can leave victims suffering from a wide range of injuries, with many even qualifying as catastrophic or life-threatening. Some of the most common and devastating pedestrian injuries are traumatic brain injuries (TBIs), which occur when a severe blow to the head causes damage to the tissue and blood vessels in the brain. While some TBIs are minor, the ones sustained in pedestrian accidents are almost always severe. Symptoms include headaches, unconsciousness, seizures, extreme mood swings, and cognitive disability.
Fractures 
Broken bones are another commonly sustained pedestrian accident injury. This makes sense when you consider the amount of force involved in this type of accident. Human bones, although built to withstand a significant amount of pressure, simply cannot cope with the level of impact involved in a collision between a person and a vehicle. Certain areas of the body are particularly prone to fractures in pedestrian accidents, including the hips, femurs, and lower legs, as well as the head and spine. In order to heal after being fractured, most bones require immobilization, surgical intervention, and physical therapy.
Spinal Cord Injuries 
While the spinal cord (a bundle of nerves running from the base of the skull to the lower back) is protected by surrounding vertebrae, it is still vulnerable to injury in the event of a traumatic event, like a pedestrian accident. A sudden blow to the back could cause the vertebrae to dislocate or even break, which in turn can cause damage to the spinal cord itself. In severe cases, the spinal cord may even become severed, which can result in paralysis.
Soft Tissue Injuries 
It is almost impossible for a pedestrian to avoid sustaining certain types of injuries during a crash, including soft tissue injuries. These injuries include everything from bruises and lacerations to sprains and dislocations. While it's true that some of these injuries will resolve themselves over time with enough rest and care, they can still cause a lot of discomfort and can also be permanently disfiguring. Lacerations, for instance, may require surgery and even after treatment, could leave victims with permanent scars. Dislocations will also require the re-setting of the bone into the joint, which is both painful and can result in limited mobility.
Atlanta Pedestrian Accident Attorneys 
We understand the kind of physical, emotional, and financial toll that pedestrian accidents can take on victims and their families and are dedicated to helping our clients shoulder this burden and seek compensation for their losses. To learn more, please call the experienced Atlanta pedestrian accident lawyers at Shiver Hamilton Campbell today.
Sources: 
nytimes.com/2023/06/27/us/pedestrian-deaths-2022
hopkinsmedicine.org/healthlibrary/conditions/orthopaedic_disorders/soft-tissue_injuries_85,P00942