How Medical Professionals Diagnose Concussions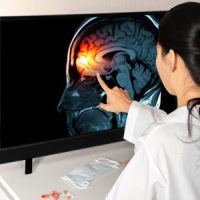 Traumatic brain injuries (TBIs), which occur when the head suffers a sudden blunt force impact, are some of the most devastating injuries that an accident victim can sustain. Of the many types of TBIs that a person can suffer, concussions are one of the most common. This does not mean, however, that these injuries shouldn't be taken seriously. The reality is that any type of TBI can have serious repercussions for accident victims, which is why it's so important for those who sustain any type of head trauma in an accident to seek the help of a medical professional right away.
Neurological Examination 
One of the first steps that a physician will take when assessing someone for a concussion is a physical examination. During this time, the doctor will likely evaluate a patient's eyes, checking for signs of dilation, while also looking for physical signs of head trauma, like bumps, bruising, and laceration. The doctor will also ask a series of questions about the types of symptoms that a person is experiencing, which, for a concussion victim could include:
Dizziness;
Blurry vision;
Nausea or vomiting;
Headaches;
Sensitivity to light or noise; and
Vision problems.
This type of physical examination allows a doctor to assess a patient's neurological responses by checking his or her:
Hearing;
Vision;
Reflexes;
Strength;
Coordination;
Balance;
Nerve function;
Sensation; and
Mental status.
Problems in any of these areas could indicate that a person is suffering from an accident-related concussion.
Cognitive Examination
 In addition to a physical and neurological examination, doctors who are checking a patient for a concussion will also assess his or her cognitive skills to determine the extent of the trauma. This in turn will require an evaluation of the patient's concentration, alertness, focus, short and long-term memory, problem solving ability, and processing time for recalling information.
Imaging Tests 
When a person's physical symptoms and neurological results indicate that he or she is suffering from a concussion, the doctor will confirm it with special imaging tests, like x-rays, MRI scans, and CT scans. These imaging options allow doctors to check for swelling or bleeding in the brain, which could be life-threatening if left unaddressed. While these imaging scans are extremely helpful in establishing whether a person has suffered a concussion in an accident, they can be expensive. Fortunately, these costs can be recovered when accident victims can prove that someone else's negligence was responsible for their injury. In addition to coverage of diagnosis costs, injured parties can also recover reimbursement for their treatment and lost wages.
Reach Out to Our Atlanta Traumatic Brain Injury Lawyers 
If you or a loved one suffered a concussion in an accident, you may be facing mounting medical debt and uncertainty when it comes to your recovery options. At Shiver Hamilton Campbell, we can assess your case and if possible, help you seek compensation for your losses. Call our experienced Atlanta traumatic brain injury lawyers at 404-593-0020 to get started on your case today. You can also set up a free consultation by reaching out to our legal team via online message.
Sources: 
cdc.gov/traumaticbraininjury/concussion/symptoms.html
ncbi.nlm.nih.gov/pmc/articles/PMC4981071/