Did You Suffer a Hip Injury in a Slip and Fall Accident?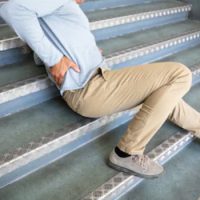 The types of injuries that a slip and fall accident victim can sustain are wide ranging, including everything from strains and bruising to broken bones and dislocations. These kinds of injuries can be debilitating, leaving accident victims unable to work while they recover and sometimes, forced to suffer with permanent disability. If you or a loved one sustained a hip injury in a slip and fall accident, an experienced Atlanta slip and fall lawyer may be able to assist you in seeking compensation for your losses.
Common Hip Injuries 
When people slip and fall, their feet often come out from under them completely, causing them to fall backwards. In many cases, the first parts of the body to strike the ground are the rear, hips, and back. Because these areas take the majority of the impact of falling, they are much more likely to sustain serious injuries, such as:
Hip strains and sprains, which occur when the muscles or ligaments around the hip become stretched or torn, causing swelling, pain, and limited mobility;
Hip fractures, which can significantly impact a person's mobility by making it impossible to put weight on the injured limb and almost always require surgery and a long recovery period;
Hip dislocations, which occur when the head of the femur is forced out of the socket of the hip bone and require manipulation of the bone back into place;
Bursitis, which happens when the fluid-filled sacs that cushion the hip joint become inflamed as a result of trauma, causing pain and restricted mobility; and
Labral tears, which occur when the ring of cartilage that surrounds the hip socket (known as the labrum) actually tears, causing pain, reduced functionality, and unusual sensations in the hip area.
How these injuries are treated, as well as their respective recovery periods will vary depending on the type and severity of the injury, as well as the health of the victim. For instance, many of those who suffer hip fractures are elderly and may require more intense medical intervention and longer rehabilitation.
Recovering Compensation for a Hip Injury 
In Georgia, property owners are required to take certain steps to ensure that their properties are safe for visitors. Those who fail to fulfill this obligation could end up being held liable for their negligence if someone is injured as a result. In these cases, claimants who can prove that a property owner's premises were dangerous could be entitled to compensation for:
Past and future medical expenses, including the cost of emergency care, ambulance services, surgery, medications, and physical therapy;
Lost wages incurred while the injured party was recovering from the injury;
Disability if the injury is so severe that it results in permanent disfigurement or disability;
Any property damage sustained during the accident; and
Pain and suffering endured by the victim as a result of the injury.
To learn more about the types of compensation to which you could be entitled after a slip and fall accident, please reach out to our legal team today.
Call for a Free Case Review 
Dealing with the aftermath of a slip and fall accident can be overwhelming. At Shiver Hamilton Campbell, our dedicated Atlanta slip and fall lawyers are here to help. Call us at 404-593-0020 to get started on your case today.
Sources: 
ncbi.nlm.nih.gov/books/NBK557514/
ncbi.nlm.nih.gov/pmc/articles/PMC6162140