Did Hitch Failure Cause Your Truck Accident?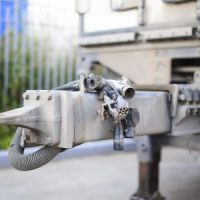 Commercial vehicles often travel hundreds of miles in a single trip, towing many thousands of pounds of cargo, so it makes sense that these trucks would require constant maintenance and repairs. Unfortunately, while a commercial vehicle's tires, engines, and brakes are usually top priority for inspections and maintenance, trailer hitches, which make it possible for the cab to pull a fully-loaded trailer, often get overlooked. This can have devastating consequences for anyone else on the road, who could be injured in the event that the hitch comes loose.
Commercial Truck Hitches
The hitch on a commercial truck is a mechanical device, located on the back of the vehicle's cab that allows it to connect to and pull a trailer. The hitches used on semi-trucks are much more complex and are significantly stronger than the ball hitches that most pickup trucks use, although they perform a similar function. Often referred to as fifth-wheel couplings because of their circular shape, truck hitches lie flat on the back of the cab and contain a locking mechanism that keeps the trailer's pin in place. While they provide a secure method of hauling trailers, serious problems can occur if there is a defect or unseen wear and tear on the hitch.
Trailer Hitches Can Disconnect
Hitches bear the full weight of a loaded trailer. This puts a lot of pressure on the pin in the trailer, which, over time, can break down due to a lack of lubrication or excessive friction. Like any other part, hitches need to be repaired and replaced when they become worn. This is especially true in certain situations, like when a truck jackknifes, as this puts more strain on the hitch than it is designed to withstand. Hitches are also designed to bear only a certain amount of weight, so the hitch on a truck that is regularly overloaded will most likely break down faster. It is not, however, always problems with the pin that causes a trailer to disconnect. If the locking mechanism, for instance, is loose, then the trailer can end up detaching while the truck is in motion, resulting in a runaway trailer accident.
Potentially Liable Parties
Who can be held liable for the failure of a trailer's hitch will depend on the cause of the accident, but potentially liable parties include:
The truck's driver, who is responsible for securing the hitch and driving in a safe manner;
The trucking company that owns the truck if it failed to conduct regular inspections, maintenance, and repairs;
The repair shop or mechanic that was responsible for inspecting, repairing, or replacing the hitch; or
The hitch's manufacturer, if the part's design or assembly was defective.
If one or more of these parties was responsible for the failure of a truck's hitch, then they could be held liable for resulting accidents.
Atlanta Truck Accident Lawyers
The experienced Alpharetta truck accident attorneys at Shiver Hamilton Campbell are well-versed in the kinds of in-depth investigations that are necessary to determine the cause of an accident. Once we've discovered the cause of your accident, we can move forward with your case, seeking compensation from the at-fault parties responsible. For an evaluation of your own case, call 404-593-0020 today.
Sources:
mcsa.dot.gov/taxonomy/term/10496
law.cornell.edu/cfr/text/49/393.70