Commercial Truck Driver Qualifications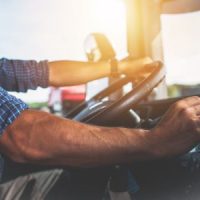 Commercial vehicles are responsible for transporting a significant portion of the goods that cross the U.S. every year. Because these trucks are so large and heavy (and are often tasked with carrying dangerous cargo), commercial truck drivers must undergo strict background checks, special training, and obtain the proper credentials. Trucking companies who fail to take these steps put anyone else on the road at risk of serious injury and should be held liable if their negligence results in an accident.
Federal Background Checks
To ensure that commercial truck drivers are qualified to operate these dangerous vehicles, the Department of Transportation (DOT) and the Federal Motor Carrier Safety Administration (FMCSA) require that trucking companies conduct background checks and review an applicant's driving record before hiring. This usually involves obtaining:
A Motor Vehicle Records (MVR) report for all of the states in which a commercial driver has worked;
An FMCSA drug and alcohol screening;
A pre-employment drug test conducted by the DOT; and
A DOT physical examination, which must be conducted every two years.
Truck drivers can also be drug-tested at random times and after collisions. Trucking companies that fail to perform these tests and end up hiring an unqualified driver, could be held liable for their negligent hiring practices.
Licensing and Certifications
Besides conducting a background check, the FMCSA also requires that trucking companies take specific steps to ensure that their drivers are properly licensed and certified. The type of commercial driver's license that a truck driver must obtain will depend on the kind of vehicle being driven. These licenses include:
Class A licenses, which allow drivers to operate a truck weighing over 26,000 pounds and trailers weighing over 10,000 pounds, like flatbeds, semi-trucks, and tanker trucks;
Class B licenses, which allow drivers to operate straight trucks and buses that weigh more than 26,000 pounds; and
Class C licenses, which allow drivers to operate a truck weighing less than 26,001 pounds, to tow another vehicle that weighs less than 10,000 pounds, or to transport 16 or more passengers.
All three types of commercial driver's licenses require the passing of a basic vehicle control test, an on-road exam, multiple skills tests, and a vehicle inspection. Besides conducting these tests, trucking companies must also keep a record of these licensing and certifications, including:
A copy of the driver's commercial driver's license (CDL);
The driver's employment history for the past three years;
Records of traffic accidents from the last three years;
Copies of any traffic tickets issued to the driver in the past three years; and
A record of any prior commercial driver's license suspensions.
This documentation often plays a crucial role in helping accident victims prove that a trucking company was negligent during the hiring process, or was aware of a driver's past violations or lack of qualifications and failed to address it.
Experienced Georgia Truck Accident Lawyers
If you or a loved one were hurt in a truck accident, call us at 404-593-0020 and tell one of our dedicated Atlanta truck accident lawyers about your crash. Call us at Shiver Hamilton Campbell today to learn more.
Source:
fmcsa.dot.gov/registration/commercial-drivers-license
flhsmv.gov/driver-licenses-id-cards/commercial-motor-vehicle-drivers/commercial-driver-license/