What Are Vehicle Crash Tests?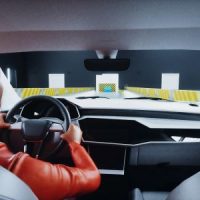 Before a vehicle manufacturer can actually put a car on the road, it must put the vehicle through a variety of tests and inspections. These tests ensure that all of a vehicle's safety features are fully functional and that the risk of serious injury to occupants in the event of a crash is as low as possible. Unfortunately, many vehicles make their way onto our roadways despite producing subpar results in crash tests.
Who Regulates Crash Tests?
Vehicle safety has improved a lot in recent decades, largely due to crash tests. Testing is conducted by two organizations: the National Highway Traffic Safety Administration (NHTSA), a federal agency, and the Insurance Institute of Highway Safety (IIHS), a private organization. Although these organizations both work to make vehicles safer via testing, they do so in different ways.
NHTSA Crash Tests
When conducting crash tests on new vehicles, the NHTSA simulates four different crash scenarios, which account for the majority of car accidents in the U.S.:
Front-end collisions, or head-on crashes;
Side-barrier crashes, or side-impact collisions;
Side-pole collisions, which mimic a crash between a driver's side and a fixed object; and
Rollover crashes, which help assess how likely a vehicle is to rollover and what damage will result.
In addition to these simulations, the NHTSA also evaluates a vehicle's safety features, like the lights and airbags, after which, they compile the results of the tests, giving the vehicle a rating out of five stars. One star is the lowest rating, while five stars is the highest.
IIHS Crash Tests
The IIHS evaluates two aspects of vehicle safety: crashworthiness, or how well a vehicle protects drivers and passengers in the event of a collision and crash avoidance and mitigation, which involves testing the technology that can lessen the severity of or prevent a crash. To make these evaluations, the IIHS conducts five tests, or crash simulations, including:
The moderate overlap flap test, which involves a head-on collision near the center of a vehicle;
The driver-side small overlap flap test, which mimics a head-on collision on the driver's side;
The passenger-side small overlap flap, which involves a head-on crash on the front passenger's side;
The side crash test, which tests a vehicle's resistance in a side-impact collision; and
The roof strength test, which evaluates how much damage a roof can take if a vehicle is involved in a rollover accident.
The IIHS also tests for the effectiveness of airbags and restraints during rear-end collisions. Again, the data from these tests is compiled to provide detailed ratings for vehicles. Unfortunately, these ratings are not fool-proof and could end up giving consumers an unrealistic picture of their vehicle's safety features.
Call for a Free Consultation
A vehicle's crash tests can provide consumers with important information about how they can expect their vehicle to perform in the event of a collision. However, just because a vehicle receives a high safety rating does not mean that an occupant can't be injured in a crash. To speak with our experienced Savannah car accident lawyers about your own crash, please call Shiver Hamilton Campbell at 404-593-0020 today.
Sources:
nhtsa.gov/ratings
iihs.org/ratings/about-our-tests