Attorney Spotlight – Scott Campbell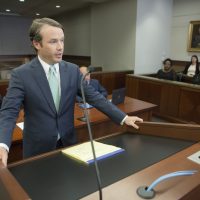 Shiver Hamilton Campbell attorney Scott Campbell is a partner with the firm and is the subject of the first installment of Getting to Know the Attorneys of Shiver Hamilton Campbell. Scott grew up in Milton, Georgia graduating from Milton High School where he was class president, active with the Fellowship of Christian Athletes, and played football. Upon graduating high school, Scott attended the University of Georgia double majoring in Political Science and Speech Communication and graduating with honors.  While at UGA Scott spent time studying in Cuernavaca, Mexico and at the University of Maine.  After graduating from UGA, Scott obtained his law degree from Emory University School of Law where he was the president of the Homeless Advocacy Project.
Upon graduating from law school, Scott spent nearly two years at Hall, Booth, Smith & Slover primarily representing doctors and hospitals in medical malpractice cases.  Scott obtained unique trial experience for a young lawyer at Hall, Booth, Smith & Slover, trying multiple significant cases to verdict.  He was then recruited to join the product liability practice group at Greenberg Traurig, one of the largest law firms in the country, where his practice was focused on defending medical device companies in high stakes product liability litigation around the country.  While at Greenberg Traurig Scott obtained invaluable experience working closely with Lori Cohen, one of the most highly regarded trial lawyers in the country.
After roughly five years crisscrossing the country defending large corporations, Scott decided it was time to recalibrate his career path.  Specifically, he wanted to utilize his legal skills to help individuals here in Georgia.  Scott sought out Jeff Shiver and Alan Hamilton who co-founded Shiver Hamilton Campbell and already begun developing its reputation as one of the preeminent personal injury trial firms in the state.  Jeff and Alan's focus on high quality legal work achieving maximum recoveries for clients while caring not just about the outcome, but the individuals, was a perfect fit for what Scott was looking for.  Scott joined Shiver Hamilton Campbell in 2013 and made partner in 2015.  Scott enjoys the tremendous responsibility and opportunity that comes with being able to not only advocate for his clients, but to provide comfort and guidance to families struggling through rough, uncertain times.
One of the most rewarding cases Scott has had the privilege to handle during his time at Shiver Hamilton Campbell involves a woman who was raped by a medical facility employee while she was an inpatient recovering from significant illness.  Her prior lawyers had pursued the case, but given up after the defense moved to dismiss the case.  When Scott first met the client, she had retreated to her apartment and seemingly given up on life.  Scott and the team at Shiver Hamilton Campbell have spent the last three years fighting for the client, aggressively and diligently pursuing evidence and ultimately obtaining a favorable ruling at the Court of Appeals ensuring, that despite the facility's attempts to prevent it, the client's case will be heard by a jury.  Over the life of the case, Scott has gotten to know the client well and seen how appreciative she is to have people who believe in her, care about her, and are willing to fight for her. Trial lawyers often represent individuals who are in the darkest and lowest moments of their lives.  This client, now a friend, serves as a constant reminder to Scott and the team at Shiver Hamilton Campbell that while advocating and fighting for clients is important, simply caring for and walking with clients as confidants, counselors, and friends is equally important.
Scott and his wife Shannon reside in Cumming, Georgia with their three children, Carson (11), Piper (6), and William (2).  Scott and his family are active members of Alpharetta First United Methodist Church.