A Year in Review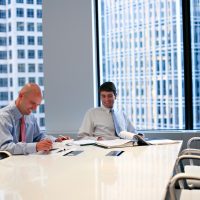 Highlights of Shiver Hamilton Campbell's Work in 2015
2015 was a year of fantastic outcomes for clients of Shiver Hamilton Campbell. Our team of highly dedicated and skilled legal professionals spent the year fighting for justice for injured victims and their families.  The results we have obtained for our clients speak to our expertise and devotion to our work.  Whether our clients have suffered personal injury in car or trucking accidents, as a result of unsafe premises, negligent security, or at the hands of negligent or malicious employees, Shiver Hamilton Campbell made 2015 a year of obtaining full compensation for injured parties and holding defendants accountable for their negligence.  Here is a look at just some of the results we obtained for our clients in the past year:
A $29,250,000 jury verdict in wrongful death action based on premises liability, where a young man died in a fire as a result of a recycling company's negligence.
A $5,250,000 settlement in a negligent security wrongful death action, where a 13 year old boy was shot and killed in the parking lot of the apartment complex where he lived.
A $3,700,000 jury verdict against a negligent driver, where our client suffered severe injuries in a head-on collision, and where the insurance company's highest offer was $25,000.
A $2,000,000 settlement in a case where our client suffered serious injuries as pedestrian hit by a negligent driver and the insurance company placed blame entirely on our client.
A $1,975,000 jury verdict against a restaurant warehouse store, where our client was injured when he was hit by an employee on a forklift.
A confidential settlement of approximately $1,000,000 against a trucking company where our client severely injured in a tractor-trailer crash, requiring a spinal surgery and multiple stitches for lacerations.
A $476,000 jury verdict against the negligent driver of an SUV who rear-ended our client, causing serious neck, shoulder, back, and foot injuries.
A $425,000 jury verdict against a trucking company and insurance company for a client who was rear-ended on I-75 by a tractor-trailer, suffering significant shoulder and low back injuries.
A confidential settlement for insurance policy limits against a truck driver and trucking company where our client suffered lower-back injuries in a tractor-trailer crash.
As 2016 begins, Shiver Hamilton Campbell remains committed to seeking justice for injured victims.  If you have been injured, you can rely on our legal team's skills, experience, and client-centered approach to help you achieve the best possible results in your case.