Trucking Accidents: the 6 Most Common Causes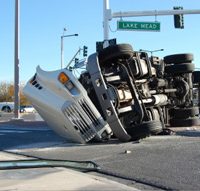 UPDATED 9/24/2014
There are many different causes of trucking accidents. If you or a loved one are injured in a trucking accident, you must prove what caused it. Proving the causes of trucking accidents is difficult: an experienced trucking accident lawyer will consult with regulatory experts and engineers, or law enforcement professionals who specialize in forensic investigation and reconstruction of crashes.  It is critically important that any trucking accident lawyer handling a tractor-trailer case is familiar with the technical regulations relevant to these cases.  But that is not enough.  The lawyer must also treat the case with urgency:  taking immediate steps to preserve evidence, interview witnesses, and document the accident scene.
Here's a list of what we, at Shiver Hamilton Campbell, have found to be the 6 Common Causes of Trucking Accidents:
1. Careless Driving Errors
Many trucking accidents are the result of the driver not paying enough attention to his or her surroundings. Often drivers forget simple safety measures such as using a signal before turning and the result is catastrophic. Other causes include the driver being fatigued or tired, being on the cell phone, not paying attention, failing to check blind spots, or simply being unfamiliar with the area they are traveling. Distracted driving is dangerous for any driver.  But when that driver is in an 80,000 pound tractor trailer, the consequences and dangers are magnified.  If you are involved in a trucking accident, you need to protect yourself not just post-accident but far into the future.
2. Reckless Driving Errors & Speeding
Reckless driving is a major problem; we've all seen the eighteen-wheeler barreling down the highway and are forced to get out of its way. Unsurprisingly this reckless behavior, speeding, is a common cause of large truck crashes. The larger a vehicle, traveling at higher speeds, the more deadly the collision. In other instances, the reckless driver was under the influence of prescription drugs or abusing other substances, which slowed their reaction time and caused a crash. And don't forget truck drivers get road rage too and aggressive driving contributes too many accidents.
3. Weather and Road Conditions
Just because truck drivers can't control the weather or dangerous roadways doesn't mean they aren't at fault for failing to adjust to them and avoid trucking accidents. Frequently, drivers of big rigs don't account or prepare for such adverse conditions by correcting their driving or equipment, which causes a wreck. For instance, when roads are slick from rain it can take a truck much longer to come to a complete stop when braking because the wheels continue to slide given the vehicle's bulk. When drivers don't plan for this they often cause disastrous rear end collisions.
4. Truck Equipment Failure
Truck drivers, like the average car driver, also have issues with their equipment failing. This can include, defective tires, poor maintenance of brakes or hitches, failure to address product recalls, and the list goes on. However, unlike car drivers, truck drivers and companies are required by federal law[1] to perform an inspection of the vehicle before any trip and perform regular inspections and maintenance on the trucks throughout the year so that collisions don't occur. Despite the consequences, these guidelines are not always followed.
5. Improper Loading
A truck being loaded improperly is another common cause of trucking accidents. When the load is not distributed or balanced it can cause the truck's weight to shift when moving, causing the load to fall off onto the roadways or, in some instances, even the truck itself to topple over. There are numerous degrees and types of improper loading. Proving this type of causation may be difficult if you are unfamiliar with performing a post-accident investigation. At Shiver Hamilton Campbell, we can handle this and the rest of the discovery process for you, while counseling you at each stage. You don't have to go it alone. We want to help.
6. Negligent Entrustment or Negligent Selection
Negligent Entrustment is the idea that although the truck driver drove the truck that caused the accident the driver's boss or other company, etc., may also be at fault because they chose to use that driver and that choice was unreasonable. Federal regulations are very specific as to the background checks and periodic evaluations of drivers that must be done.  To fully investigate a case, your lawyer needs to be familiar with the rules; know what documents to obtain; and know how to evaluate whether the trucking company an unsafe, unqualified driver behind the wheel.
Congressional Activity
On July 1, 2013 new federal regulations designed to improve safety for the motoring public by reducing truck driver fatigue took full effect. The FMSCA's new hours of service final rule limited the average work week for truck drivers to 70 hours from 82 hours. [2] The regulations also allowed truck drivers who reach the maximum 70 hours of driving within a week to resume if they rest for 34 consecutive hours, including at least two nights when their body clock demands sleep the most – from 1-5 a.m. However, on June 5, 2014, Senator Susan Collins from Maine put forward an amendment to the Transportation, Housing and Urban Development and Related Agencies (THUD) appropriations bill that would suspend the FMSCA's new hours of service rule for one year pending the completion of a field study on how the rule impacts safety. The committee passed the amendment on a 21-9 bipartisan vote with all Republicans and seven Democrats voting for the amendment.
Nonetheless, when the THUD bill reached the Senate floor on June 19, Senate Majority Leader Harry Reid pulled the bill due to partisan arguments on attachments to the bill. On August 1, 2014, the Senate held a cloture vote on the bill and did not have the votes to keep it alive. House leaders pulled the THUD bill from the floor as well after it seemed they didn't have the votes to pass it. The bill could come up again in September, but as of September 21, it has not. Stay tuned.
---
How Shiver Hamilton Campbell Can Help Victims of Trucking Accidents
Trucking accident cases are complex legal matters. They require experienced trucking accident attorneys who know how to address a complex case in a timely fashion. If you or a family member have been the victim of a trucking accident, don't go it alone. At Shiver Hamilton Campbell, we have the knowledge and expertise to counsel you each step of the way. You will benefit from the experience we've earned over the years—trucking accident experience involving eighteen-wheeler semis, tractor trailers and big rigs. We're more than just attorneys fighting on your behalf, we're also counselors who want to help you and your family recover physically, emotionally, and financially.
[1] Federal Motor Carrier Safety Administration (FMSCA)
[2] Federal Motor Carrier Safety Administration (FMSCA) New Hours-of-Service Safety Regulations to Reduce Truck Driver Fatigue Begin Today