What to Do if You Witness a Car Crash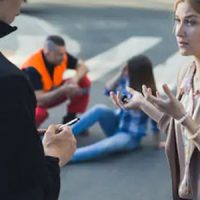 Anyone who spends time on the road will likely end up witnessing an accident at some point in their lives. This can be a frightening experience, especially when the crash is severe and one or more parties is seriously injured. There are a few important things, however, that you should be aware of before getting involved in a crash and also some ways to protect yourself if you do.
Prioritize Your Safety 
The first thing you should do if you witness a car accident is to prioritize your own safety by ensuring that you are in a secure place and are not impeding any emergency personnel who arrive at the scene. If you end up near the vehicles involved in the crash, be sure to maintain a safe distance from those vehicles, which could be leaking hazardous materials or even be at risk of catching on fire. There could also be debris from the accident strewn about the road, making it doubly important that you remain alert and aware of your surroundings.
Contact Emergency Responders 
If emergency responders have not yet arrived at the accident scene, you should reach out to law enforcement immediately. These responders are specially trained to render aid in these situations, so while you may wish to provide assistance, be sure to first contact the professionals and:
Notify them of the accident;
Inform them of the crash location; and
Provide information about possible injuries.
If you do decide to render aid to the parties involved, you don't have to worry about liability, as Georgia's Good Samaritan Law states that anyone who intervenes in good faith in an emergency will be shielded from legal liability if something should go wrong.
Take Photos and Recordings 
Another step you can take after you see a car crash is to take photos and videos of the scene of the accident. While you likely won't have captured the actual crash on tape, the photos from immediately after an accident can be valuable to the victims when trying to establish fault for the crash or when calculating the resulting damages. Remember, however, only to take photos when doing so is both safe and appropriate.
Talk to Law Enforcement 
The police show up at most car accident scenes, so when they do, it's important that you speak to them about what you saw. You'll also likely need to provide the officers with your contact information, so that they can contact you at a later date if either party files an insurance claim. Remember, the information you provide will probably be included in a police report, so be sure to be honest and clear about what you saw.
Helping Tampa Accident Victims for 40 Years 
If you saw a car crash, you could end up being involved in an eventual legal claim. To ensure that your rights are protected during the process, feel free to call the experienced Atlanta car accident lawyers at Shiver Hamilton Campbell today. You can also reach out to a member of our legal team online.
Sources: 
ksltv.com/454342/what-you-should-do-if-you-witness-a-crash/
forbes.com/advisor/car-insurance/what-to-do-after-accident/