Trucking Safety & Regulatory Updates: Part Three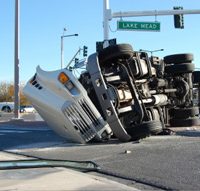 In 2000, the U.S. Department of Transportation created the Federal Motor Carrier Safety Administration (FMCSA) to head government regulation regarding trucking safety. As part of its goal "to reduce crashes, injuries, and fatalities involving large trucks and buses," the FMCSA develops and enforces motor-carrier regulations. In this third installment of a multi-part series on important updates to federal trucking regulations, the focus is minimum insurance requirements for large commercial trucks (part one covers Maximum Driving Time and Electronic Logs and part two covers Speed Limiters).
Trucking Safety & Regulatory Updates: Minimum Insurance Requirements
The FMCSA requires motor carriers to maintain minimum levels of "financial responsibility" in the event of a crash with members of the public.  That "financial responsibility" is generally maintained through liability insurance.  For over 30 years, the FMCSA has set the minimum liability insurance requirements for most large commercial trucks at $750,000.  A study issued by the FMCSA indicates that 246,260 motor carriers are subject to this requirement, and this class of trucks accounts for 49,819 crashes per year.  [1] In 2012, Congress passed a bill instructing the FMCSA to investigate whether current minimum insurance requirements are still appropriate. [2] In April 2014, the FMCSA issued a report concluding that current insurance requirements may be inadequate to cover catastrophic collisions, in part because medical costs have increased over time. [3] However, the report also recognized that catastrophic collisions exceeding the current insurance requirements are still quite rare.
Critics of the proposal to raise minimum insurance requirements for large commercial trucks say that doing so would result in a significant increase of premium rates, while only providing additional coverage for a very small number of crashes.  Nonetheless, long-term medical care for a person who is severely injured in a collision could easily amount to millions of dollars.  Without adequate insurance coverage, the costs of such an injury would fall on victims and their families rather than the trucking companies who caused the damages.  In December 2014, the FMCSA announced it was considering a proposed rule increasing the minimum insurance requirements for large trucks, and asked the public to submit comments.  Before the deadline for public comment expired on February 26, 2015, the FMCSA received 2,177 submissions from the public.   [4]
[1] http://www.fmcsa.dot.gov/mission/policy/report-congress-examining-appropriateness-current-financial-responsibility-and
[2] http://www.regulations.gov/#!documentDetail;D=FMCSA-2014-0211-0001
[3] http://www.fmcsa.dot.gov/sites/fmcsa.dot.gov/files/docs/Financial-Responsibility-Study.pdf
[4] http://www.regulations.gov/#!docketBrowser;rpp=25;po=0;dct=PS;D=FMCSA-2014-0211