Distracted Driving: A Multi-Part Series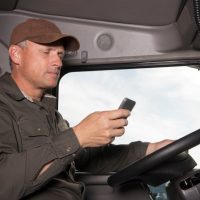 Anything that diverts a driver's attention from driving can result in distracted driving.  This includes eating, talking to passengers, grooming, and talking or texting on cell phones.  In 2012, 3,328 people were killed in car crashes attributed to distracted driving.  Another 421,000 people were injured in wrecks involving a distracted driver.  Those who engage in tasks requiring visual and manual attention (like dialing or texting on a cell phone) are three times more likely to be involved in a wreck. [1] Because of the dangers inherent in distracted driving, this multi-part series will discuss how distracted driving affects different types of drivers, passengers, and pedestrians.
Distracted Driving & Trucking Accidents
Commercial motor vehicle (CMV) drivers who text while driving are 23.2 times more likely to be involved in a crash, near crash, or unintentional lane deviation.  [2]  Dialing a cell phone increases a CMV driver's risk of being involved in a crash, near crash, or lane deviation by six times.  Obviously, commercial drivers' hand-held cell phones pose a significant hazard to the general public.
Responding to these dangers, the Federal Government has prohibited CMV drivers from texting or using hand-held cell phones while driving.  CMV drivers may not reach for a device, hold a cell phone, or press more than one button while driving.  Instead, the rule allows drivers to use voice-activated or one-button touch features on their phones to place, answer, and end calls, and use either earpieces or speaker phones for the duration of the call.  Violation of the federal rule may result in fines up to $2,750, and a driver with more than one offense may face disqualification.  A motor carrier that allows drivers to violate this rule could be fined up to $11,000.
Yet some point out that talking on a hands-free device can still result in dangerously distracted driving, since it requires a driver to divert his focus away from driving.  For this reason, some safety advocates believe that the federal regulations have not gone far enough to prevent distracted driving, and that all cell phone usage should be banned. If you or a loved one has been involved in a crash due to distracted driving, speak to one of our Atlanta personal injury attorneys today. 
[1] http://www.distraction.gov/get-the-facts/facts-and-statistics.html
[2] http://www.fmcsa.dot.gov/driver-safety/distracted-driving