Technology in the Trucking Industry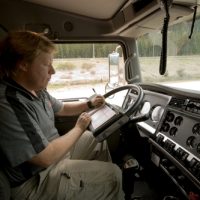 In an era defined by technological advances, upcoming technology promises to revolutionize the trucking industry. New innovation has the potential to make trucking both safer and more efficient.
The Importance of New Technology in the Trucking Industry
Electronic Stability Controls (ESCs) are automatic, computer-controlled systems that sense when a truck is becoming unstable and can automatically brake single wheels to prevent trucks from rolling over. The National Highway Traffic Safety Administration has recently imposed a new requirement that, beginning in 2017, all trucks and buses exceeding 26,000 pounds in total weight must be equipped with ESCs. This rule is projected to prevent 56% of all rollover crashes, avoiding approximately 1,700 crashes, 649 injuries, and 49 fatalities per year. [1] ESCs have been required in passenger cars since 2012.
Electronic Logging Devices (ELDs) automatically track trucks' service hours, location, speed, and other driving statistics. Drivers have always kept paper logbooks to document these statistics, both for purposes of compensation and to prove regulatory compliance. However, since there is often a financial incentive to driving long hours and distances, some unscrupulous drivers keep two logbooks: one with accurate statistics for compensation purposes, and a fraudulent book to show police in case of a stop. ELDs are aimed at preventing these practices while increasing efficiency. While many carriers already use ELDs, they are not currently mandatory. The FMCSA has proposed a rule requiring all drivers who currently use paper logs to switch to ELDs, but the rule has not yet been passed. [2]
Even without federal mandates, many trucking companies are taking it upon themselves to adopt other new technologies aimed at increasing safety. For example, onboard video recording systems are helpful in monitoring the cab and the road to analyze risky driving. Certain electronic systems can also monitor the vehicle and driving activity, keeping "scorecards" to keep drivers and their employers apprised of driving performance. These systems may even send alerts to the driver and the trucking company when a driver speeds or engages in other risky driving behavior. [3]
Sources:
[1] http://www.usatoday.com/story/money/cars/2015/06/04/electronic-stability-control-now-required-in-trucks-and-buses/28443665/
[2] http://www.fmcsa.dot.gov/newsroom/dot-proposes-use-electronic-logbooks-improve-efficiency-safety-commercial-bus-truck
[3] http://www.truckinginfo.com/article/story/2014/05/safety-technologies-the-new-frontier.aspx