Some Of The Most Common Causes Of Slip And Fall Accidents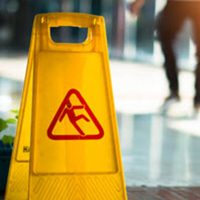 It is not uncommon for slip and fall victims to assume that they were at fault for their accidents. This, however, is not always true. In fact, if the property owner failed to take steps to keep the premises safe, he or she could be held liable for the victim's accident-related losses. We've included examples of some of the most common causes of slip and fall accidents in Georgia.
Wet Floors
Wet walking surfaces are perhaps the number one cause of slip and fall accidents in Georgia, as wet floors can be encountered just about anywhere. Whether the floors were just mopped, there's a leak somewhere in the building, or someone spilled something on the floor, wet floors can prove dangerous for visitors. Water, however, isn't the only liquid that can cause slip and fall accidents. Grease, oil, cleaners, soaps, and certain floor polishes, for instance, can all cause slip and fall accidents if a property owner fails to warn visitors of the danger.
Uneven Surfaces
Just because a flooring surface is clean and dry does not mean that it is automatically safe if it is uneven. Uneven flooring can take a lot of different forms, including everything from chipped tile and torn carpeting to cracks in the sidewalk and uneven stairs.  When a property owner knew of the hazard and failed to repair it or warn visitors, or would have known about it if he or she had conducted regular inspections, then that individual could be held liable for the victim's losses.
Ice and Snow
Ice and snow are predictable consequences of cold snaps in the winter months, so property owners and businesses are required to plan for them. This could mean spreading salt to melt ice on the sidewalks or parking lot, or using a snow removal service to clear safe paths for visitors. Unfortunately, failing to take these steps can have serious repercussions, as these types of falls almost always happen outside and so tend to lead to severe injuries.
Poor Lighting
Insufficient or inadequate lighting can make a property that would otherwise be safe, into a hazardous one. Poor lighting conditions are particularly common in parking garages and apartment buildings, where visitors could end up falling and suffering everything from scratches and bruising to broken bones and lacerations.
Clutter and Obstacles
A cluttered area is physically limiting and can easily cause a person to trip and fall. Common examples of clutter include:
Pallets and stocking materials left in the aisles;
Extension cords;
Empty cardboard boxes or bins;
Trash or debris; and
Endcap displays that block an aisle.
Property owners are required to keep an eye out for these types of hazards and to remedy them immediately. Those who fail to do so can be held liable for a slip and fall victim's injuries.
Call Today for Help with Your Case
At Shiver Hamilton Campbell, our dedicated Roswell slip and fall lawyers can answer your questions and explain your legal rights following a slip and fall accident. Call us today at 404-593-0020 to set up a free initial consultation.
Sources:
cdc.gov/niosh/topics/retail/slips.html
law.justia.com/codes/georgia/2018/title-51/chapter-3/article-1/section-51-3-1/