Electric Scooter Rider Killed by Bus in Atlanta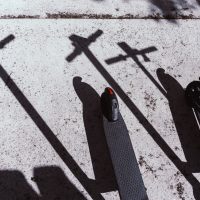 A 37-year-old man named Brad Alexander was struck and killed by a CobbLinc bus while riding an electric scooter in Midtown Atlanta, making it the second electric scooter accident death in the city. Law enforcement believes the bus driver was turning right when they hit the victim on Peachtree Street, leaving the victim trapped under the bus. He died before he could be rescued by firefighters. It is still unknown whether there will be any charges pressed as a result of the accident.
Only weeks ago, Atlanta police began to strictly restrict the use of electric scooters. Under the new restrictions, electric scooters must be ridden on the street, rather than on the sidewalk with pedestrian traffic. These rules make issues on the road such as a misunderstanding of who has the right of way, scooters riding in blind spots and in between cars, and riders not wearing helmets more likely. E-scooters such as Bird and Lime are rising in popularity around the country, and cities are struggling to keep up. But, what are the consequences for riders?
Since the introduction of electric scooters, there has not only been a boom in usage but also in related injuries and fatalities in the US. As a result, the Center for Disease Control and Prevention (CDC) is examining these trends at the request of the Austin, Texas Public Health and Transportation Department. Over the course of a three-month span, the CDC found that less than one percent of riders involved in a scooter accident wore a helmet and that nearly half of the injuries sustained from electric scooters were head injuries. However, helmet enforcement may be far off as scooter companies contest the idea. They argue that helmet requirements would take away from the spontaneity of the service and would make the scooters less accessible to everyone.
Though extremely affordable and convenient, the introduction of electric scooters has led to serious public health consequences nationwide and even worldwide. It is important that when driving, whether that be a scooter, car, or bus, that you are cautious and aware of those around you. However, sometimes accidents are unavoidable. If you or a loved one was involved in an electric scooter crash or related bus accident, it is important to reach out to a scooter accident lawyer who understands this rapidly changing area of law. The seasoned attorneys at Shiver Hamilton Campbell have experience in wrongful death claims, bus accidents claims, and personal injury claims and can fight for the compensation that you deserve.