Common Examples of Negligent Security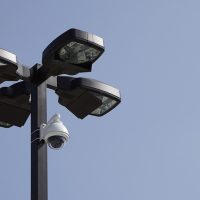 People have the right to be kept safe whenever they are traveling, running errands, or otherwise going about their day. Whether they are in their own apartment building, at their place of work, going out for an evening of cocktails, or staying at a hotel, this right is not changed or diminished.
Likewise, property owners have a responsibility to ensure the safety of visitors and tenants. When or if these common examples of negligent security can occur, they can be held liable through a civil lawsuit. Any time a security measure has become broken, defective, inoperable, or was nonexistent in the first place, it could mean there was negligent security.
Broken or Missing Building Elements
If the parking lot of an apartment building had large lights that kept the parking lot well-lit at all times, but one or more of those lights was broken, this could an example of negligent security. In the same vein, if a deadbolt lock on a hotel room did not work properly, allowing someone to enter a person's room unlawfully and assault or steal from them, that would also be an example of negligent security.
Negligent security can also take the form of safety measures not existing in the first place. If the hotel did not have locks on all individual room doors as well as entryways not located right at the front counter, this could potentially serve as grounds for a lawsuit if it results in someone suffering damages due to a criminal act.
Failure to Anticipate Criminal Activity
If there is a reason for a property owner to believe criminal activity is common around their property, satisfactory security measures would likely necessitate taking substantive action to minimize the likelihood of this criminal activity occurring.
For example, if the owner of a bar knows there is a lot of gang activity in the area, they should take additional security measures such as hiring security guards that can patrol the parking lot and surrounding area. If the bar owner does hire security guards but does not hire enough to allow for thorough patrolling of the entire property at all times, this could still be considered negligent security.
Failure to Protect from Other Visitors
Property owners could also be responsible for ensuring they do not encourage illegal acts or anything else that might facilitate one visitor harming another. For example, if one guest at a bar is obviously overserved but the bar staff continues to bring them drinks, the bar may be held responsible in some cases for continuing to serve the guest if they ultimately cause a fight to break out.
In the same vein, landlords have a responsibility to ensure their tenants are kept safe at all times. This includes not only providing well-lit parking lots, video surveillance measures, and adequate locks on all doors as mentioned above, but also ensuring that other tenants they are renting to do not have a criminal past. They must also ensure tenants are not conducting criminal activity while on the premises. So, for example, if a landlord knew a tenant was dealing drugs out of their apartment and did nothing to stop it, that could also be considered negligent security.
Talk to an Attorney About Negligent Security
Unfortunately, these are just a few common examples of negligent security that may occur. If a person is injured as a result of such negligence by a landlord or property owner, the injured party may be able to file a lawsuit against the property owner based on that negligence. If you would like to explore your options in this regard, you should speak to one of our premises liability attorneys for help in assessing your case.