Car Accidents With Uninsured Drivers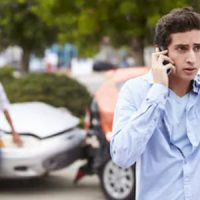 In most car accident cases, it is the at-fault driver's insurance who is usually responsible for paying compensation to the injured parties. Unfortunately, an alarming number of drivers don't carry auto liability insurance, which can put other motorists in a tough position financially. Fortunately, there are steps that Georgia drivers can take to help protect themselves in the event of a collision with an uninsured driver.
Georgia Car Insurance Law
All states have their own car insurance laws on the book. For instance, under Georgia law, all motorists are required to obtain auto liability insurance of at least:
$25,000 per accident for property damage;
$25,000 per person for bodily injury; and
$50,000 per accident for bodily injury.
Because Georgia is an at-fault state, car accident victims can file claims with the insurance company of the person who caused their crash, recovering compensation for property damage, medical bills, and lost wages. Things become a bit more complicated, however, when a driver is uninsured, as drivers are not required to carry uninsured motorist coverage, which provides compensation to injured parties in the event of a collision with an uninsured driver.
Uninsured Motorist Coverage
Although purchasing uninsured motorist coverage isn't compulsory in Georgia, doing so is still a good idea. A driver who doesn't have insurance coverage probably doesn't have the assets to make a personal injury suit a viable option, which can leave injured motorists in a difficult spot financially. Those with an uninsured motorist policy, however, can seek compensation from their own insurers if they are involved in a car crash with an uninsured driver. These policies cover medical bills, property damages, and lost wages up to a certain amount.
Filing an Uninsured Motorist Claim
To begin the process of recovery, a policyholder will need to file a claim with his or her insurance provider, within the time stipulated in the policy. After making the request, an insurance adjuster will be assigned to the case and will eventually investigate the claim. Most will require proof of the crash, like photographs, videos, and eyewitness testimony, as well as evidence of damages, such as medical bills and vehicle repair estimates. If the insurer accepts the claim, then the parties can negotiate a settlement amount. If, however, the insurer refuses to accept responsibility, the claimant may need to file a lawsuit against the company in court.
What if I Don't Carry Uninsured Motorist Coverage?
If a car accident victim doesn't carry uninsured motorist coverage and is involved in a car accident, he or she will probably end up having to pay for the injury and vehicle repair out-of-pocket. Fortunately, health insurance will often cover a person's medical expenses. To recover the remaining losses, an injured party could attempt to file a lawsuit against the at-fault driver in court. In these cases, the best a claimant can hope for is usually an award from the court ordering the at-fault driver to pay regular installments. These payments, however, are usually relatively low, as most defendants who don't have auto insurance also lack access to other assets to pay a large monetary award.
Atlanta Uninsured Car Accident Lawyers
To speak with one of the experienced Roswell uninsured car accident lawyers at Shiver Hamilton Campbell about your own legal options following an accident involving an uninsured driver, call us at 404-593-0020 today.
Sources:
oci.georgia.gov/insurance-resources/auto
law.justia.com/codes/georgia/2010/title-33/chapter-7/33-7-11