Can I Sue The City For A Slip And Fall Accident?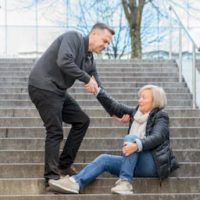 You probably know that if you are injured in an accident caused by the negligence of an individual or business, you can file a personal injury lawsuit and ask a court to award you monetary damages. But what if your injuries were caused by the negligence of the government? Can you sue the city?
Normally, you cannot sue a sovereign entity, such as the United States Government or the State of Georgia, in its own courts. This is a legal principle known as sovereign immunity. But the legislature can waive sovereign immunity as it sees fit. When it comes to personal injury claims, the Georgia legislature has adopted a blanket waiver of immunity for torts committed by state or local government employees.
In other words, if you are injured in, say, an auto accident caused by a city worker driving a government truck, you can sue the city for damages just as you might a private employer. But before you can pursue such a claim, you first have to comply with a number of legal requirements that do not apply to individuals and private businesses. One such requirement is that you must give advance notice to the governing authority of the city within six months of the accident. This notice must include the "specific amount of monetary damages being sought." Failure to comply with this and other parts of the notice requirement may force a judge to dismiss your case.
Georgia Appeals Court Dismisses Case Due to Lack of Specific Notice
For example, the Georgia Court of Appeals recently reversed a trial court's refusal to dismiss a personal injury claim due to deficient notice. The case, City of Conyers v. Sampson, involved a slip and fall accident. The plaintiff fell due to an uncovered manhole on a city-owned sidewalk. He later served the required pre-litigation notice with both the City of Conyers and Rockdale County. Ths notice said the amount of damages sought was "$500,000, which [the plaintiff] believes to be within the limits of insurance."
Now, you might think that was a reasonably specific amount to request. The trial court thought so. But the Court of Appeals said it was deficient. The appellate court noted that since the notice was served on both the city and the county, the law required the plaintiff to request specific amounts from each entity. The notice only requested $500,000 in total without stating how much should be paid by the county and how much by the city. This might seem like a minor detail, but the Court of Appeals said it rendered the notice too "indefinite" to comply with the law. As such, the plaintiff's lawsuit had to be dismissed.
Speak with an Atlanta Premises Liability Attorney Today
If you are ever involved in an accident caused by a government worker, you should not delay in seeking out qualified legal advice. If you need to speak with an experienced Atlanta slip and fall lawyer, contact Shiver Hamilton Campbell today to schedule a consultation with a member of our personal injury team.
Source:
efast.gaappeals.us/download?filingId=b5ace0c5-c938-4f79-86fe-b9e15d916597