What To Do After A Slip And Fall Accident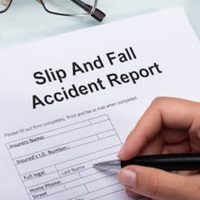 Slip and fall accidents can occur just about anywhere and at any time. Many victims, for instance, are hurt at work, while others slip and fall in public spaces, or even in the home of a friend. Regardless of where an accident occurs, victims may encounter resistance when trying to recover compensation for their losses. This is where the help of an experienced attorney is most beneficial.
Seek Medical Advice
One of the most important things you can do after a slip and fall accident is to obtain medical assistance. This is true even for those who think that their injuries may not be very severe. The adrenaline that so often accompanies being involved in an accident can mask initial symptoms, which can worsen over time if left untreated. To avoid this and to ensure that a slip and fall injury is properly documented in the event of a civil claim later on, victims should be sure to seek medical attention right away.
Report the Slip and Fall Accident to the Property Owner
Slip and fall victims will also need to report their accident to the property manager, landlord, or owner in charge of the premises where the injury occurred. They will usually fill out an accident report, where the injured party will need to describe how and when the accident occurred. This report can be used at a later date to demonstrate negligence on the part of the property owner.
Document the Scene of the Accident
It's also important for slip and fall victims to document as much as they can about the accident scene by taking photos of the area where they fell and any visible injuries, writing down details about the accident, and noting the contact information of any witnesses who saw the accident. This evidence, along with any video footage, could prove crucial in establishing that a property owner's negligence caused or contributed to the accident.
Avoid Giving Statements or Posting on Social Media
Insurers are some of the first people that a property owner will call after a slip and fall accident occurs on their property. These adjusters will then likely attempt to collect a statement from the parties involved. Injured parties should, however, avoid giving a statement without a lawyer present, as the details in these statements could end up being used against the victim at a later date. Similarly, injured parties should avoid posting anything about their accident on social media while their case is pending. Any photos, status updates, or other information could be used by a defendant to cast doubt on a victim's claim.
Get Started on Your Case Today
Demanding fair compensation after a slip and fall accident can be challenging, especially when a property owner is well defended and well funded. At Shiver Hamilton Campbell, our experienced and compassionate Savannah slip and fall lawyers can help ensure that your case goes as smoothly as possible by thoroughly investigating your claim and negotiating with insurers on your behalf. Call us at 404-593-0020 to set up a free consultation with a member of our legal team.
Sources:
law.justia.com/codes/georgia/2010/title-51/chapter-3/article-1/51-3-1
law.cornell.edu/wex/negligence