Suffering A Car Accident-Related Facial Injury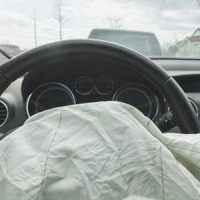 Injuries caused by facial trauma are different from other types of accident-related injuries, simply because our faces play such an important role in how we interact with the world, through sight, taste, and smell. As a result, injuries to this area can cause victims to suffer for years after an accident because of problems with scarring, disfigurement, reduced mobility, and vision loss. Facial injuries can occur in a lot of different accidents, but are perhaps most common in car crashes, where shattered glass can pierce the skin, steering wheels and dashboards can cause broken facial bones, and being ejected from the vehicle can result in road rash and lacerations.
What Causes Car Accident-Related Facial Injuries?
Our faces contain 14 bones that are fused together to protect the oral and nasal cavities, as well as the eyes and sinuses. They don't break easily, but they can if enough pressure or force is placed on them. Unfortunately, car accidents involve a significant amount of trauma, which means that there is often enough force to cause serious injuries to the face from:
Striking the airbag, steering wheel, or dashboard upon impact;
Coming into contact with shattered windows;
Ejection through the window or windshield upon impact;
Coming into contact with foreign objects that punctured the vehicle;
Being struck by flying objects or debris inside the vehicle; or
Burns resulting from engine fires.
It can be difficult to get a good grasp on the extent of a facial injury at the time of an accident, because they are almost always accompanied by pain, bleeding, and swelling. Beneath these symptoms, however, could be a number of different kinds of injuries.
Types of Car Accident-Related Facial Injuries
Car accident-related trauma to the face can cause a wide range of injuries, including:
Fractures to the nasal bone, lower jaw, cheekbones, eye socket, and upper jaw;
Open wounds, like abrasions, skin tears, and deep lacerations that can cause lasting damage to the connective tissue, muscles, and nerves in the face; and
Facial burns, which are often caused by engine fires or explosions at the scene of the accident.
These kinds of facial injuries often result in permanent disfigurement, even for those who seek immediate treatment. There is also a link between facial injuries and traumatic brain injuries (TBIs), as trauma to the face usually involves trauma to the head as well. Treatment could require everything from stitches and surgery to skin grafts and the use of antibiotics. Once treatment is complete, a victim could need cosmetic surgery to address scarring and disfigurement, like eye deformities, vision loss, or a loss of facial function.
Did You Suffer a Facial Injury in a Georgia Car Crash?
Call the experienced and compassionate Marietta car accident attorneys at Shiver Hamilton Campbell for help with your accident-related recovery. Initial consultations are offered free of charge, so don't hesitate to call our office at 404-593-0020 to set up a case review with a member of our legal team.
Sources:
hopkinsmedicine.org/health/conditions-and-diseases/lacerations
ncbi.nlm.nih.gov/pmc/articles/PMC3256789/