Attorney Spotlight – Maggy Randels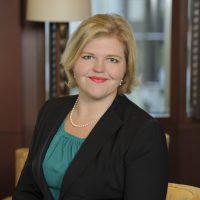 The latest installment of the Shiver Hamilton Campbell Attorney Spotlight series takes a look at Shiver Hamilton Campbell trial attorney Maggy Randels. Maggy grew up in Nashville, Tennessee, where she was valedictorian of her high school class and captain of the mock trial team. She then attended Washington University (in St. Louis, not D.C. or Washington State!). There she majored in Political Science and Latin American Studies, and graduated with college honors.
She was a Treasury Representative for the Student Union and a member and team captain of the university's highly decorated mock trial team, traveling around the country to compete, and winning numerous honors, including All Region Attorney. Maggy went on to make the move to Georgia to attend the University of Georgia School of Law, where she found time to fall in love with Georgia football (Go Dawgs!) while also serving as Student Bar Association Vice President, Executive Articles Editor of the Georgia Law Review, and competing on both the moot court AND mock trial teams.
As a member of the moot court team, Maggy and her team won the honors of National Best Brief and National Octofinalist Team at the American Bar Association National Appellate Advocacy Competition,
as well as winning the National Moot Court Championship. Maggy and her mock trial team also were crowned Champions of the prestigious South Texas Mock Trial Challenge. At graduation, Maggy was inducted into both the Order of the Barristers and the Order of the Coif.
After graduating third in herclass and summa cum laude, Maggy spent two years clerking for the Honorable Thomas W. Thrash, Jr., Chief Judge of the United States District Court for the Northern District of Georgia. There, she learned the ins and outs of the federal court system, had the privilege to observe excellent advocates in court, and honed her writing skills. Following her clerkship, Maggy joined Jones Day in Atlanta, where she was part of the team representing a large product manufacturer in defending against multiple individual product liability suits in Florida. After only a short time at Jones Day, Maggy realized that helping people who have been injured is much more important than helping corporations avoid paying people who they have injured. Maggy jumped at the opportunity to join Shiver Hamilton Campbell and learn from the extremely talented trial attorneys here. Since joining the firm in May of 2017, Maggy has hit the ground running working on a variety of cases, including trucking wrecks and negligent security matters.
Since moving to Atlanta after law school, Maggy has become involved in the community as a captain and player on an ALTA tennis team at Piedmont Park and as a volunteer attorney coach for the Westminster Schools high school mock trial team. Maggy lives in the Old Fourth Ward neighborhood of Atlanta and will marry her fiancé, Doug, in October 2017!