Can Airbags Cause Injuries?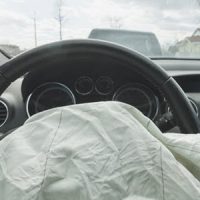 Not all consumer products end up being safe to use. In fact, some products that are specifically designed to protect us, turn out to be defective and can actually lead to consumer injuries. Airbags, which save thousands of lives every year and have significantly reduced deadly injuries in car accidents over the last four decades, still manage to fall under this category. Fortunately, injured parties who can prove that a manufacturer's negligence was the cause of the airbag's failure, could be entitled to recovery.
How Airbags Work
Airbags operate via a complex system of sensors that, when they detect a vehicle's rapid declaration, activates a control unit that in turn, signals an inflator. These inflators fill up the airbag with a special gas, often as quickly as within 1/20th of a second. However, because airbag systems are made up of so many moving parts, an issue with any single component could result in the failure of the entire system.
Airbag Defects
Any number of problems within an airbag system can cause serious injuries. For instance, a few years ago, Toyota came under fire when the inflators in a number of airbags in its vehicles began exploding after long-term exposure to heat or humidity. These explosions result in the expulsion of shrapnel from the airbags, causing serious injuries. Other problems that could result in a defective airbag and subsequent injuries, include:
Problems with the software;
Faulty wiring;
Improper venting;
Overworked inflators; and
Faulty sensors.
When these kinds of issues, or other problems with design, manufacturing, production, or installation occur, injured parties could be entitled to compensation for their airbag-related injuries.
Common Airbag Injuries
Defective or malfunctioning airbag systems can cause a wide range of injuries, but some of the most common include:
Injuries to the face, including fractures and lacerations;
Head trauma, resulting in traumatic brain injuries, like concussions;
Injuries to the chest, such as broken ribs, bruised or punctured lungs, and abrasions;
Injuries to the neck and back, including whiplash and more severe problems involving the vertebrae;
Burns, either caused by the force and drag of the expanding airbag against the skin, or the release of dangerous chemicals upon inflation; and
Internal injuries, including organ lacerations, bruising, and even internal bleeding.
How severe these kinds of injuries end up being will depend on a number of factors, including the height, age, and health of the victim, as well as the type of airbag defect in question. To learn more about seeking compensation for an airbag-related injury, reach out to our legal team today.
Turn to an Atlanta Car Accident Lawyer for Help
The dedicated Decatur car accidents attorneys at Shiver Hamilton Campbell have been operating in and around Atlanta for decades.  To learn more about how we could help with your own airbag defect claim, or to speak with one of our attorneys about another liability-related issue, please call our office at 404-593-0020 today. You can also reach a member of our legal team via online message.
Sources:
nhtsa.gov/equipment/takata-recall-spotlight
law.justia.com/codes/georgia/2010/title-51/chapter-1/51-1-11-1